Quality Blade Repair Pays
Blade damage slows down everything.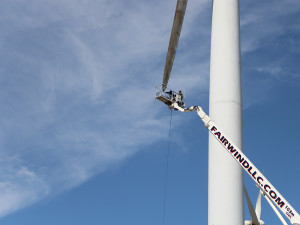 Quality blade repair is essential.  Blades can take a lot of abuse over their lifespan. Blade damage and erosion slows down everything and effects production even more than we sometimes want to admit. Wind turbine blades are exposed to the most extreme weather conditions imaginable. Considering nearly all of a blades life it is exposed to hard driving rain, snow, ice, blowing sand, heat, hail and lightning and on top of that it is slicing through this debris filled air at 150mph. At some point these elements will gradually destroy the surface. These types of elements affect the aerodynamics, and will eventually effect overall efficiency of the turbine.
Routine service, maintenance and inspections will result in a longer life expectancy of our customers' investments. Early detection and repairs of visual erosion, cracks, or lightning strike damage is critical in evading continued deterioration which requires more costly repairs in the future.
FairWind Renewable Energy Services has the equipment, knowledge and experienced team to get onsite fast, and have the repairs done quickly and profitably by utilizing our own highly qualified blade techs or just providing lift access for sites that have their own technicians to perform the repairs. Our blade technicians are trained to the highest of industry standards and have had multiple years of industry experience.  
We offer multiple access methods with our services. Our most common and more efficient method is via our Palfinger WT-1000 103m high lift aerial platforms. These machines are the largest truck mounted platforms in North America. We can operate past our competitors wind cut out limits at a very conservative 12.5 mph, due to its massive chassis and superior German engineering for stability. Our higher wind limits allow our customer to optimize the most out of the cost of maintenance via truck mounted platform.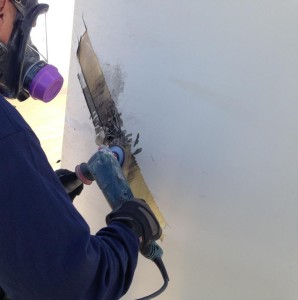 Is 103m overkill for your project, or your looking at repairs somewhere around tip height? If so, then we can utilize our Palfinger P-700's which can be operated at a max height of 70m.
Aerial platforms are becoming the most preferred method of exterior Up-tower services. They are much safer and have a quick set up time of only 15 minutes, which reduces costly lost production time for our customers.
We can also utilize suspended basket access if this is the preferred method of our customer's choice. Fair Wind owns and operates multiple suspended basket crews that are sometimes preferred on smaller projects where mobilizing heavy equipment is not an efficient option at the location.
Repairs and Upgrades
Lightning Damage
Ice impact Damage
Tip repairs
Repair to cracks and faults
Laminate damage
Hail Damage
Leading edge erosion repair
Shipping and construction related damage repairs
Trailing and leading edge splits
Vortex Generator Installations
Aerodynamic power upgrades
Lightning protection systems
With FairWind's fleet of aerial work platform trucks and dedicated, knowledgeable technicians for blade repairs and inspections, we are can guarantee the highest levels of expertise and arrive on site quickly in order to save our customers from extended non-production and ultimately lost revenue.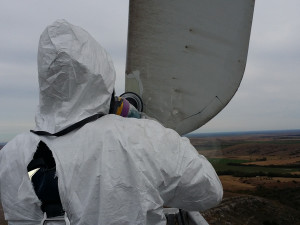 ---
Call us today for all your Wind Industry Maintenance and Repair Needs.
Fair Wind Renewable Energy Services, LLC
(580) 492 – 5209