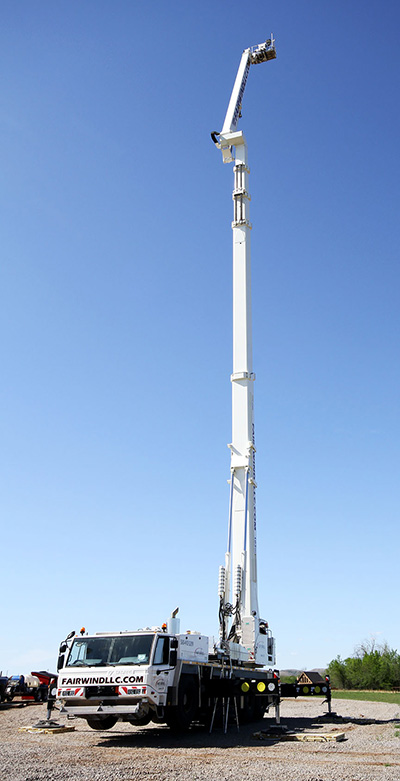 Our WT-1000 All Terrain Aerial Platform is the premier method for accessing all parts of a wind turbine.
This platform is the largest aerial lift platform in the United States reaching up to 103 Meters (338 ft.) The lifting capacity of 1320 pounds and a man basket that can expand up to 12 ft. wide gives our customers the ability to utilize numerous tools at once.
The WT-1000 All Terrain Aerial Platform can get your wind turbine back in production quicker than any type of rope access or suspended scaffolding because of its 15 minute time frame from set up to full height.
Fair Wind Renewable Energy Systems, LLC also has numerous tractel baskets available for rental. These baskets can be used to reach most parts of the wind turbines exterior. No matter what the size you may need, we have a cable system for all heights.
This service gives the customer the ability to reach all parts of the blade for fiberglass repair. Other applications are high torque, flange painting, cleaning, tower painting, tower repairs, etc.
Some  WT-1000 All Terrain Aerial Platform  Specifications:
Specification
Max. height of work (imp.)
336′ 3″
Max. basket floor height (imp.)
329 '8″
Max. horizontal outreach / with basket load (imp.)
114′ 10″ / 440lbs
Slewing range of basket (imp.)
2×84 
Hydraulic jib boom, working range (imp.)
115°
Max. stabilizer spread (imp.)
317″
Number of extensions (lower boom/upper boom) (imp.)
4 / 2
Max. basket capacity (imp.)
1169 lbs
Workman basket – width / length / height (imp.)
153″ x 41″ x 43″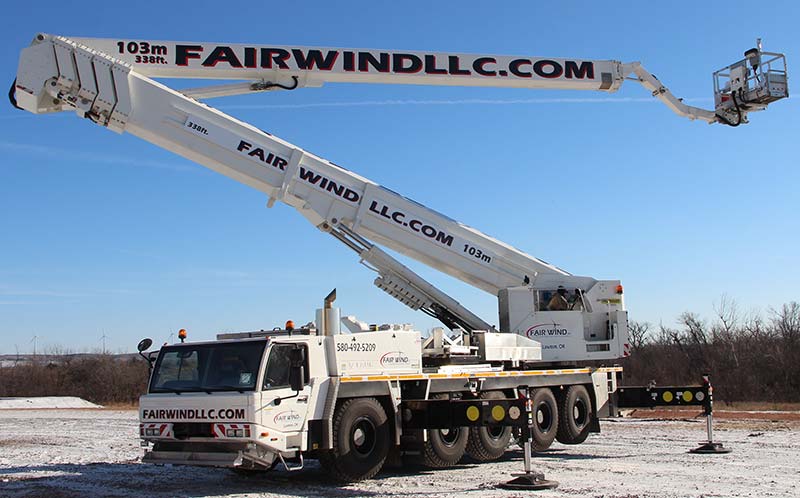 ---
Call us today for all your Wind Industry Maintenance and Repair Needs.
Fair Wind Renewable Energy Services, LLC
(580) 492 – 5209