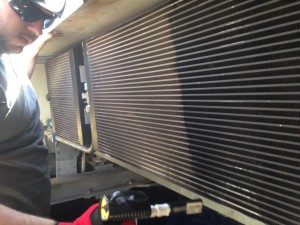 Wind Turbine Maintenance
Fair Wind Renewable Energy Services, LLC has the skilled, equipped, highly trained manpower and specialty tooling to assist with your Operations and Maintenance needs,  fault troubleshooting, and scheduled  maintenance evolutions.
Fair Wind Renewable Energy Services, LLC can provide support to your own turbine maintenance staff to perform OEM maintenance procedures in a complete and timely manner.  We can also prepare a customized maintenance plan to meet the customer's specifications and industry best practices.
Some of the turbine maintenance services we offer are:
Contract Manpower (Tech Assistance)
Filter Exchanges
Lubrication Checklist
Oil exchanges of gearboxes, yaw drives, contaminated oil tanks
Torque and Tensioning
Fault Identification / Troubleshooting
---
Call us today for all your Wind Industry Maintenance and Repair Needs.
Fair Wind Renewable Energy Services, LLC
(580) 492 – 5209